Vacuum sealed foods lasts around 3–5 times longer than food that is stored in conventional containers or bags. Food also tastes better when it's pulled out of storage, and it's safer! Plus, you can use vacuum sealers for electronics, medical supplies, and much more.
If you're looking for the best food vacuum sealer for your home or business, check out these reviews of our best vacuum sealers of 2019. There's a variety of vacuum sealers for different budgets and uses!
Commercial Quality Home Vacuum Sealers
1. VacMaster Pro 350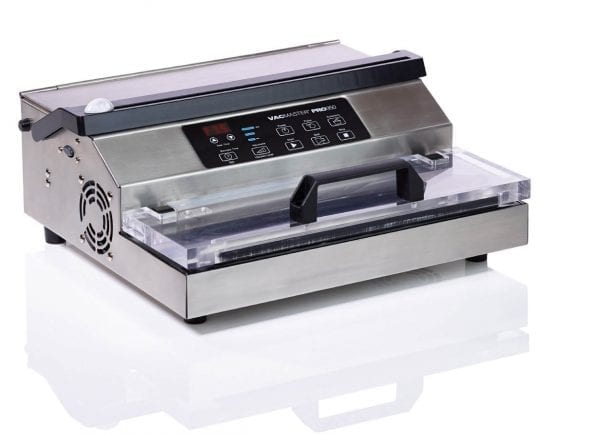 The VacMaster Pro 350 is easy to use at home, even though it's made with commercial-grade technology. It features an internal cooling fan, which lets you keep sealing food in longer sessions, and holds a roll with 50 feet of sealing material. Pick the mode you want on the LCD display. (A new supply of this item will be available in January of 2020.)
2. VacMaster Pro 380
The VacMaster Pro 380 has the same convenient features and power of the 350, but it includes a seal bar that is 4 inches wider. You can use it to seal two different bags at the same time. 
Chamber Vacuum Sealers
1. VacMaster VP220 Chamber Vacuum Sealing Machine
This popular model features an oil-cooled rotary engine, which allows your business to dependably vacuum seal food all day. You can even seal liquids or liquid-rich foods because the VP220 uses vacuum chambers that don't suck liquids out during sealing.
The VP220 uses the best vacuum sealer technology, including a 12-inch seal bar, stainless steel parts, and low-cost vacuum bags. Use it for moderate to heavy commercial food volumes.
2. VacMaster VP230 Chamber Vacuum Sealing Machine
If your organization needs a heavy-duty, powerful, dependable vacuum sealer, try the VP230, with a 1/2 HP rotary oil vacuum pump.
The Vacmaster VP230 is easy to use, with a simple push-button digital control panel. Its chamber-sealing technology allows you to even seal liquid-rich foods
Retractable Snorkel Sealers
1
. AmeriVacs AVS-20 Retractable Nozzle Vacuum Sealer
This powerful vacuum sealer option uses a built-in vacuum pump that runs off your own air compressor and can easily seal any type of bag — even Mylar. It runs quietly, activated by a foot pedal, vacuuming and sealing bags efficiently. 
Besides food industry use, this sealer can also seal medical components, electronics, and items produced in a clean room.
Find Your Best Vacuum Sealer for 2020
Learn more about our vacuum sealers on our website, either for food storage or other commercial and home uses. Contact us at Vacuum Sealers Unlimited for even more helpful information and advice.